"Where Do We Go From Here?"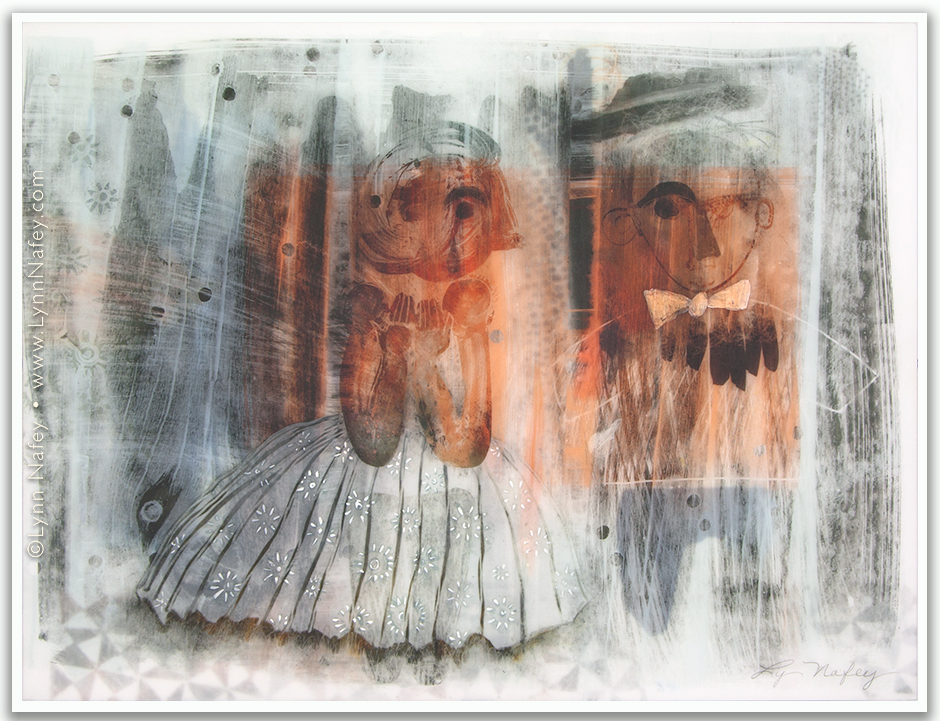 "Where Do We Go From Here?" (2017) - Mixed media. 12.25 x 16.125 inches.
What lies beneath and between -- that's what intrigues me. I'm not interested in realistic depiction for the sake of it. There is too much going on under the surface of all beings and things, whether that be the flux of thoughts and emotions that swim inside us, or the complex histories that shape us and everything around us.
Rather, I strive to make these intangible forces evident in my art.
One can literally peer through the translucent layers of my assemblages to explore what is embedded deep within the composition. It is an exciting challenge to break free of the strict two-dimensional surface as I push and pull elements back and forth in space.
Discovery and inventiveness are foremost in my mind as I juxtapose raw, primitive line, bold texture, splashes of color, and whimsical pattern -- all in an effort to more potently express what is felt, but not seen.
While characters emerge serendipitously, their stories unfold over time and serve as a gateway to my own emotions, memories, and perceptions. More questions are raised than answered: Why does the man have no arms and only half legs? Is he disappearing? Are they a couple? Is it their wedding day? What is the significance of her see-through dress? Is she happy, sad, angry, or all the above? I find this ambiguity compelling as it allows for multiple interpretations.
Each piece is like a riddle to be pondered. Though there are moments of fevered working, most times I find myself in a long, slow meditation from which I gain much wisdom and insight.
____________________________________________
"Where Do We Go From Here?" is a multi-layered mixed media work constructed with dura-lar, plexiglass, and paper on wood panel. Media used include pigment transfers, ink, gouache, colored pencil, and paper.