"Place Of Beginning"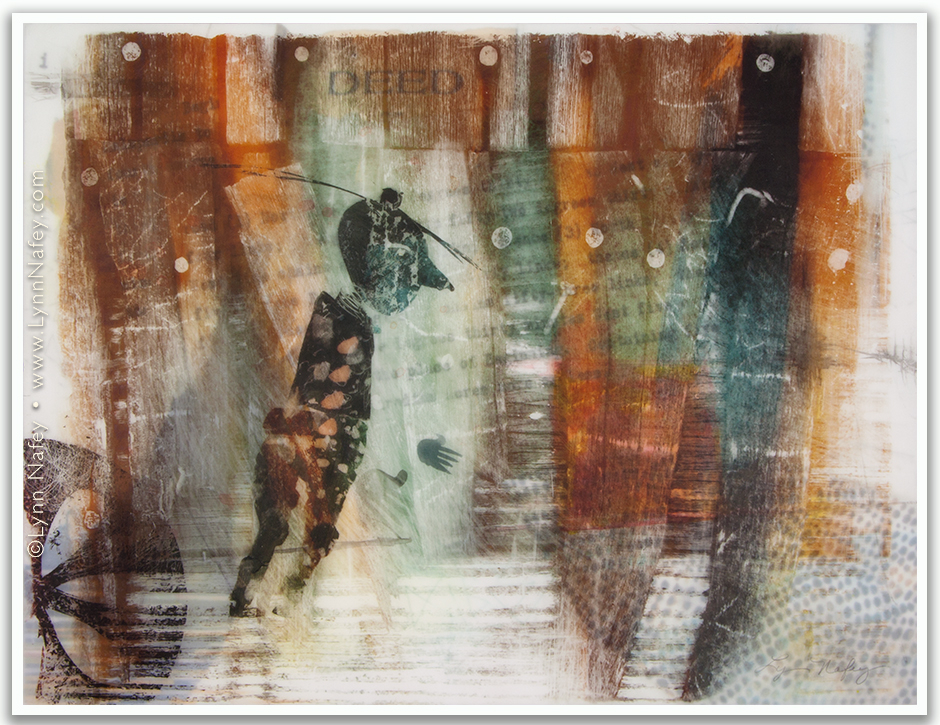 "Place of Beginning" (2017) - Mixed media. 12.25 x 16.125 inches.
Setting the stage is an image transfer from an old barn on our family property. Enchanted with its patchwork pieces, scuff marks, and errant nails, I took many photographs to use as inspiration.
The barn, built nearly 100 years ago by my grandfather, had me thinking about history, the passage of time, and the multitude of moments lived within its walls.
The playful, yet curious character who inhabits this stage is part farmer, part wizard. Though he echoes some of my grandfather, he is not an embodiment of him, but rather a more mysterious character who appeared during the creative process.
Layered behind the surface, and visible through a translucent veneer, are sections from the original 1923 deed to our family property, and from which the title was born. That section reads, "South twenty-five degrees thirty minutes West five chains fifty-six links to the place of Beginning."
The phrase, "Place Of Beginning", had an immediate resonance for me. Not only did I think of my grandparents starting a life together in a new country, and that this property was where both my mother, my siblings, and I were born and raised, but in a much broader context, the passage through many of life's portals can be noted as "places of beginning" : birth, graduation, marriage, and divorce -- to name an obvious few. They are, on some level, "blank slates" on which we shape and forge our future, just as an artist, or even a farmer, begins with a blank surface, be it paper, canvas, or soil, in order to create something that did not exist prior.
____________________________________________
"Place Of Beginning" is a multi-layered mixed media work constructed with dura-lar, plexiglass, and paper on wood panel. Media used include pigment transfers, ink, gouache, and colored pencil.